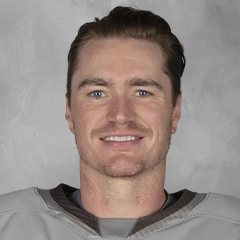 LW | 6' 3" | 209 lb | Age: 29 | Henderson Silver Knights
2017-18
Appeared in his fourth professional season and first with Binghamton, recording 5-8=13 points with 119 PIM in 64 games.
Led the Devils and set a new career high with 119 PIM.
Registered four points (2-2=4) in six games to start the month of January.
Career
Signed by San Diego to a one-year contract through the 2018-19 AHL season on Sept. 5, 2018.
Has appeared in three NHL games with New Jersey, going scoreless with four PIM…made his NHL debut on Apr. 4, 2017 vs. Philadelphia, going scoreless with two shots in 9:31 TOI.
Has scored 25-32=57 points with 415 PIM in 276 AHL games with Albany and Binghamton…made 13 Calder Cup Playoff appearances with the Devils, earning three goals (3-0=3) with 16 PIM.
Appeared in five OHL seasons with Kitchener (2009-13) and North Bay (2013-14), collecting 65-85=150 points with a +28 rating and 483 PIM in 303 games…helped North Bay reach the OHL Finals, earning 5-9=14 points in 22 postseason games.
Ben Thomson's current season stats
| Season | GP | G | A | P | +/- | PIM | PPG | PPP | SHG | SHP | GWG | OTG | S | S% |
| --- | --- | --- | --- | --- | --- | --- | --- | --- | --- | --- | --- | --- | --- | --- |
| 2021-22 Regular Season | 15 | 2 | 1 | 3 | -5 | 18 | 0 | 0 | 0 | 0 | 0 | 0 | 12 | 16.7 |
Ben Thomson's game by game stats
Ben Thomson's Career stats
| Season | GP | G | A | P | +/- | PIM | PPG | PPP | SHG | SHP | GWG | OTG | S | S% |
| --- | --- | --- | --- | --- | --- | --- | --- | --- | --- | --- | --- | --- | --- | --- |
| 2021-22 | 15 | 2 | 1 | 3 | -5 | 18 | 0 | 0 | 0 | 0 | 0 | 0 | 12 | 16.7 |
| 2020-21 | 31 | 6 | 1 | 7 | -7 | 45 | 0 | 0 | 0 | 0 | 0 | 0 | 39 | 15.4 |
| 2019-20 | 5 | 0 | 1 | 1 | -3 | 7 | 0 | 0 | 0 | 0 | 0 | 0 | 1 | 0.0 |
| 2018-19 | 53 | 4 | 9 | 13 | -4 | 91 | 0 | 1 | 0 | 0 | 1 | 0 | 55 | 7.3 |
| 2017-18 | 64 | 5 | 8 | 13 | -17 | 119 | 0 | 0 | 0 | 0 | 0 | 0 | 90 | 5.6 |
| 2016-17 | 72 | 6 | 4 | 10 | -12 | 90 | 0 | 0 | 0 | 0 | 1 | 0 | 113 | 5.3 |
| 2015-16 | 73 | 6 | 12 | 18 | 2 | 109 | 0 | 1 | 0 | 0 | 2 | 0 | 121 | 5.0 |
| 2014-15 | 67 | 8 | 8 | 16 | -2 | 97 | 0 | 1 | 0 | 0 | 2 | 0 | 80 | 10.0 |
| Total | 380 | 37 | 44 | 81 | -48 | 576 | 0 | 3 | 0 | 0 | 6 | 0 | 511 | 7.2 |
| 17 Playoffs | 4 | 1 | 0 | 1 | -1 | 6 | 0 | 0 | 0 | 0 | 1 | 0 | 3 | 33.3 |
| 16 Playoffs | 9 | 2 | 0 | 2 | 0 | 10 | 0 | 0 | 0 | 0 | 0 | 0 | 9 | 22.2 |
| Total | 13 | 3 | 0 | 3 | -1 | 16 | 0 | 0 | 0 | 0 | 1 | 0 | 12 | 25.0 |